Compare Our Business Cards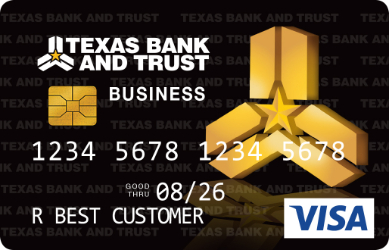 VISA® Business Debit Card

| Benefits | VISA® Business | VISA® Business Debit Card | VISA® PayCard |
| --- | --- | --- | --- |
| Cardholder Inquiry Service* | X | X | - |
| Lost or Stolen Card Reporting* | X | X | - |
| Emergency Cash and Card Replacement* | X | X | - |
| Auto Rental Collision Damage Waiver* | X | X | - |
| Zero Liability* | X | X | - |
| Roadside Dispatch* | X | - | - |
| Travel Accident Insurance* | X | - | - |
| Scorecard Bonus Points | X | - | - |
| A convenient alternative to writing checks | - | X | - |
| Access to over 55,000 surcharge-free Allpoint ATMs | - | X | - |
| Purchase security and extended protection* | - | X | - |
| Travel and emergency assistance services* | - | X | - |
| Benefits to employer and employee | - | - | X |
| Cards funded with existing direct deposit system | - | - | X |
| Reduced cost and risk of lost checks and check fraud | - | - | X |
| Convenient and flexible access to funds | - | - | X |
| Eliminates expensive check cashing fees | - | - | X |
---
| Fees | VISA® Business | VISA® Business Debit Card | VISA® PayCard |
| --- | --- | --- | --- |
| Annual Fee | None | None | None |
| APR for purchase | 12.60% | N/A | N/A |
| APR for balance transfers | 12.60% | N/A | N/A |
| APR for for cash advances | 12.60% | N/A | N/A |
| Penalty APR & when it applies | None | N/A | N/A |
More Details
Convenience
Easily pay online with VISA® checkout at your favorite stores with a single sign in.



Additional Security
Know where your money is going. Get a text or email whenever you pay with your Texas Bank and Trust VISA® card.

---
Subject to credit approval.
For customer service during business hours, please call 903-252-3180.
Effective and accurate as of 09.01.2023. Subject to change after this date. For any changes after the effective date, please call us at 1-800-263-7013.
*Cardholder Inquiry Service, Lost or Stolen Card Reporting, Emergency Card Replacement, Auto Rental Collision Damage Waiver, Zero Liability, Roadside Dispatch, Travel Accident Insurance, Purchase security and extended protection, and Travel and emergency assistance services are not products/deposits of the bank, not guaranteed by the bank, not FDIC insured, and not insured by any Federal governmental agency. They are subject to policy eligibility, terms, and exclusions.
Merchant Services
Consumers today are using credit cards more than ever to make purchases. The ability to accept credit cards can play an important role in increasing your sales revenue. Texas Bank and Trust is pleased to offer Merchant Bankcard Processing for your business. For additional information, click here, call (903) 237-1858 or send us a secure email . We also offer free 24/7 customer service and online access to your Merchant Services Account so that you can research account activity at your convenience.