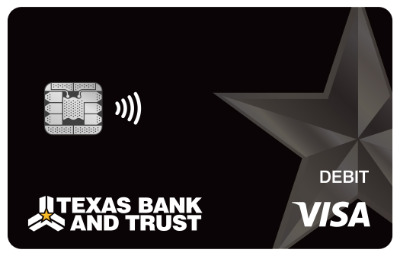 A convenient alternative to writing checks that also allows ATM access to your money.
Benefits
Use your VISA® Business debit card to access checking account funds and as your ATM card

Accepted online and at retail stores worldwide through VISA®

Extra SECURITY with individual Personal Identification Number (PIN)

FREE 24-hour service at ATMs located at all of our branches, many local Walgreens locations, and over 55,000 surcharge-free Allpoint ATMs. Click here to see a list of ATM locations.

Lower credit card interest rates for Texas Bank and Trust VISA® Business debit card holders who apply and are approved for one of our Texas Bank and Trust VISA® credit cards

Fees
Each Additional Card Issued: $1.00 per month

TBT ATM Fee: NO Charge

Off-Premise ATM Fee: $2.00 per withdrawal PLUS location's fee

Off-Premise Balance Inquiry: $0.75 per inquiry
For lost or stolen cards, please call VISA® debit card security at 1-866-546-8273.
For customer service during business hours, please call 903-252-3180.
VISA® Checkout
Love shopping online, but hate all the hassles when it's time to pay? VISA® Checkout is a digital payment service that can make online payment as fun and easy as online shopping. You can use it anywhere VISA® Checkout is accepted — on the go with your tablet or smartphone, or at home with your computer.

To enroll your card, click the "VISA® Checkout" logo.
VISA® Purchase Alerts
Alerts powered by VISA® is a useful, relevant service that enables Texas Bank and Trust cardholders to monitor their account for fraudulent activity as well as their own spending habits—all in near real-time. This unique service is free for Texas Bank and Trust Visa® cardholders.

To start receiving VISA® Purchase Alerts, click the "VISA® Purchase Alerts" and enroll today.
If You Plan to Travel Outside the U.S.
We strongly advise that you obtain the Visa
®
security telephone number for the country or countries in which you will be traveling, in the event that you lose your card. Visit
www.usa.visa.com
, and click on "Lost Your Card?" Select the country from the dropdown menu to find the security number. If your card is lost or stolen, call the number immediately. If you should lose your card or have it stolen en route to your destination, please call the following number to report the theft or loss:
VISA® debit card: 1-866-546-8273
VISA® credit card: 1-800-325-3678