A gift that's a perfect fit for any occasion!

Birthdays and holidays. Weddings and graduations. In any one year, you might need to buy dozens of gifts. How do you please everyone? By choosing TBT Visa® Gift Cards and giving your friends, colleagues, and loved ones the power to buy anything they want.
Cards can be used to shop online or at millions of locations worldwide
Purchase cards at TBT branches for $3 each
Cards can be replaced if lost or stolen (There's an $8 replacement fee. Call 866-496-6183 to report a missing card.)
Gift card balances and transactions can be tracked online (Cards must first be registered at website is listed on back of each card.)
A monthly fee of $4.95 may be assessed to your card after 12 consecutive months of inactivity
Bulk Ordering
Orders of 25 cards or less (non-personalized) can be purchased at the designated teller window.

Minimum of 25 cards for bulk personalized orders with a seven-day turnaround.

Non-personalized bulk orders have a 24-48 hour turnaround for 25 or more cards.

Personalized cards can have 20 characters on the top line and 16 characters on the second line.
Annual Gift Cards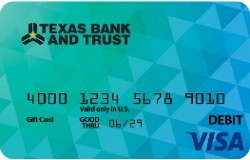 Visa® Gift Card is issued by Pathward, N.A., Member FDIC, pursuant to a license from Visa U.S.A, Inc.
Texas Bank and Trust is a fiercely independent, community bank with full service locations throughout east and north Texas.