From bills to budgeting, Bank on Demand makes life a little easier.

Is TBTmyWay easy to use?  You bet.  Can it save you time and offer big money management benefits?  Definitely.  Can we explain how to use it in user-friendly terms?  It would be our pleasure.
Bank on your time.  Bank on your terms.  Bank on Demand.
Take the hassle out of paying bills, with the simple, get-it-done service of Bill Pay.
Bill Pay is available for NO cost through TBT Digital Banking via desktop and mobile
Make one-time payments with just a few clicks
Schedule recurring payments - such as utilities - months in advance
View all your bills in one secure place
Access records of past payments
In addition to paying bills, you can use this service to make person-to-person payments, bank-to-bank transfers, charitable donations, and send monetary gifts
Two clicks and that's about it.  You don't have to go to the bank to deposit checks anymore.  All it takes is a team effort from our TBT mobile app and your smartphone or mobile device camera.  SMARTDeposit.

Endorse checks as you normally would
Capture front and back images of your check
Send images to TBT using our mobile app
Receive electronic confirmation of your deposit
Access funds as fast as the next business day
Enhanced security features safeguard your personal and financial information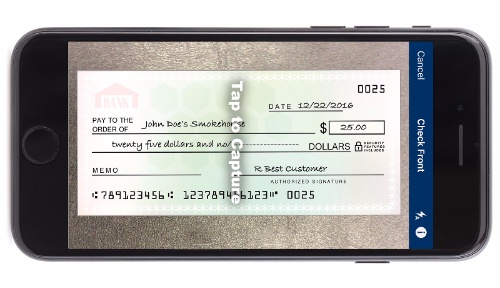 With electronic statements, eStatements, your financial data is always right at your fingertips where you can use it to study your spending habits or locate a specific transaction.

Access eStatements from your desktop or mobile device
Receive an email when your statement is ready
Download your statement to your desktop - or print it out if you'd like
Access 15 months of previous statements
Avoid the risk of fraud that comes when paper statements are lost or stolen from the mail
Know what can pay big dividends?  Taking a little time to view the big picture regarding your finances.  With our free online software, you can figure out where you're spending money, how you might save more, and what you can do to fine-tune your budget.

With TBT's account aggregation through myOFM, you can track all of your financial accounts in one place, even if the accounts are not with Texas Bank and Trust.
View all your bank, brokerage, and financial accounts from various institutions all in one secure place
Automatically categorize your transactions and analyze your spending habits
Study your saving progress and what steps you might take to reach your goals
Your Visa® debit card is a valuable financial tool.  You can ensure its security and control its use through TBT Digital Banking via desktop and mobile.
Turn your card "on" and "off"
Set dollar limits on card purchases
Control the geographic area where your card can be used
Receive texts or emails notifying you of important card activity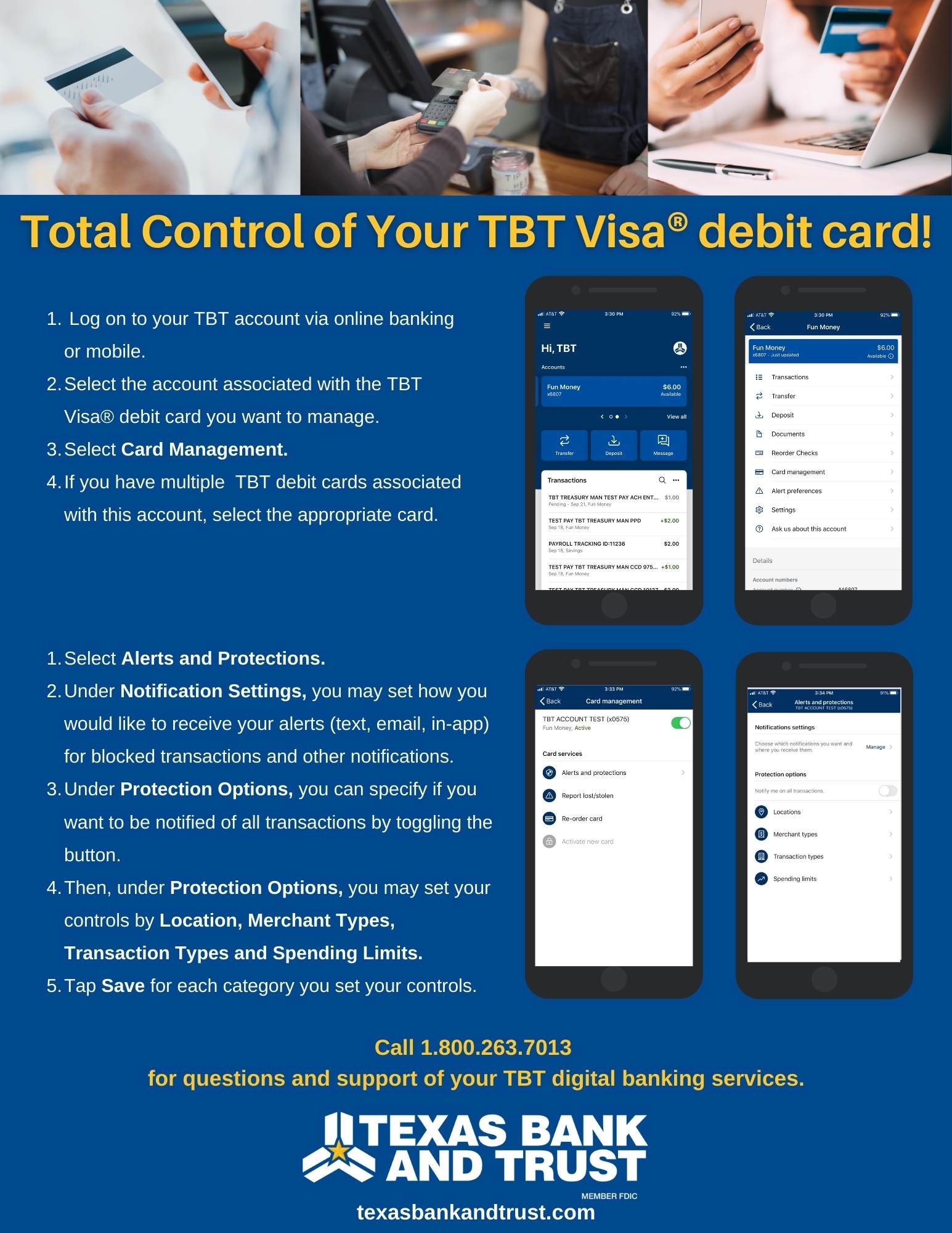 Bon voyage!  Whether you are traveling for business or pleasure, we hope your trip is successful and stress-free.  Through digital banking, you can share a few details - such as travel dates and destination - so TBT can keep a close eye on your card security.